Running with Scissors is an active group that hosts exhibits, weekend retreats, challenges and various other events.
Please click on an event below to view photos of it. A list of our current activities are listed in the right hand sidebar.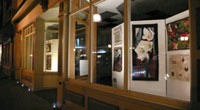 Running with Scissors is proud to exhibit as a group in various locations around Michigan. The album above shows some our past exhibits.
___________________________________________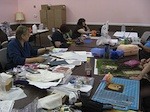 Retreats & Group Hosted Events
Several times throughout the year, the group gets together for small informal weekend retreats.  We also host events such as lectures and artist demonstrations.

___________________________________________